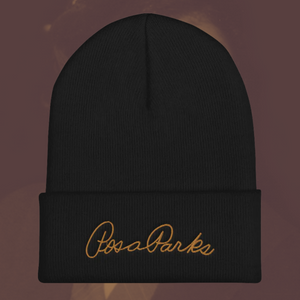 Sweet Signature Series - Rosa Parks [Embroidered Beanie]
The Sweet Signature Series is our landmark design. It is a one-of-a-kind creative process that replicates the actual signatures of our celebrated heroes/great minds and digitally re-designs/re-creates that personal sentiment.
This is a snug, form-fitting beanie. It's not only a great head-warming piece but a staple accessory in anyone's wardrobe.

100% Turbo Acrylic
12" in length
Hypoallergenic 
Unisex style
Rosa Louise McCauley Parks (February 4, 1913 – October 24, 2005) was an American activist in the civil rights movement best known for her pivotal role in the Montgomery bus boycott. The United States Congress has called her "the first lady of civil rights" and "the mother of the freedom movement".
EST. 1619