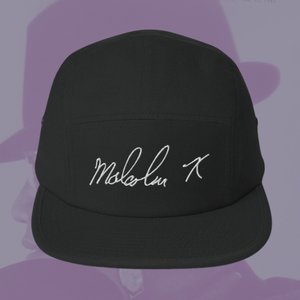 Sweet Signature Series - Malcolm X [5 Panel Camper]
The Sweet Signature Series is our landmark shirt design. It is a one-of-a-kind creative process that replicates the actual signatures of our celebrated heroes/great minds and digitally re-designs/re-creates that personal sentiment.
This is a structured camper style cap with a firm front panel.

• Structured
• Firm front panel
• Low fitting
• Pro stitch on crown
• 4 metal eyelets
• 8 rows of stitching on visor
• Matching fabric undervisor
• Matching color sweatband
• Adjustable release plastic buckle with nylon strap closure

Malcolm X (May 19, 1925 – February 21, 1965) was an American Muslim minister and human rights activist who was a popular figure during the civil rights movement. He is best known for his advocacy for the rights of black Americans. Intelligent and articulate, Malcolm X was a natural leader, as well as the national spokesman for the Nation of Islam. 
EST. 1619