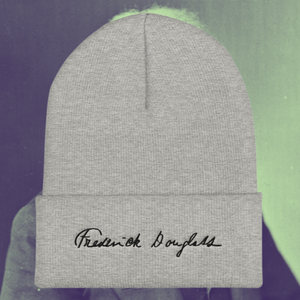 Sweet Signature Series - Frederick Douglass [Embroidered Beanie]
The Sweet Signature Series is our landmark design. It is a one-of-a-kind creative process that replicates the actual signatures of our celebrated heroes/great minds and digitally re-designs/re-creates that personal sentiment.
This is a snug, form-fitting beanie. It's not only a great head-warming piece but a staple accessory in anyone's wardrobe.

100% Turbo Acrylic
12" in length
Hypoallergenic 
Unisex style
Frederick Douglass (born Frederick Augustus Washington Bailey; c.February 1818 – February 20, 1895) was an American social reformer, abolitionist, orator, writer, and statesman. After escaping from slavery in Maryland, he became a national leader of the abolitionist movement in Massachusetts and New York, gaining note for his oratory and incisive antislavery writings. In his time, he was described by abolitionists as a living counter-example to slaveholders' arguments that slaves lacked the intellectual capacity to function as independent American citizens. Northerners at the time found it hard to believe that such a great orator had once been a slave.
EST. 1619